About MG Logistics
MG Logistics Private Limited is a fast-growing international freight forwarding company registered in India as per the Indian Company's Act 1956. We have started our operations in 2009 and have been established as a well-known logistics service provider in India.
MG Logistics is a Multi Modal Transport operator licensed by the Ministry of shipping, Govt. of India. We offer professional and cost effective logistics solutions to companies across the globe. MG Logistics Private Limited, "Your Trusted Logistics Company" offers single window solutions for global freight movements. We are committed to provide exceptional logistics services and solutions to our clients through proactive communication, swift transportation, express delivery, economic pricing and personal care.
We are proud to have a team of dynamic professionals with solid experience in logistics and having superior industry knowledge in international trade. Headquartered in Chennai, India with branches and associate offices all across the major ports and Inland Container Depots (ICDs)in India, we offer freight forwarding services from any partof India to anywhere in the world.
We provide timely and cost effective logistics solutions for our clients involved in international trade through our well-connected global network and highly skilled team. We believe our client's requirements are of the utmost importance. We are committed to exceed your expectations in global freight movements by offering unparalleled levels of customer service with relentless focus on service quality and timely delivery.
Management
MG Logistics Private Limited is a young and dynamic company founded by a close-knit group of logistics experts who possess many years of proven industry experience. Our company is managed by well experienced and highly qualified logistics professionals.
DIRECTORS
Mr. Prabin Kumar P.
Managing Director
---
Mr. Prabin Kumar brings over 20 years of experience in logistics domain, and he had successfully handled several complicated projects in all the verticals of logistics industry. He is the Founder and Managing Director of MG Logistics Pvt Ltd and Mov & Go Logistics (Customs broker division).
Mr. Prabin Kumar is a Post Graduate in Commerce and holds a Master Degree in Business Management. He also holds a Diploma in Air Cargo Handling from IATA – Montreal, and certified for handling dangerous goods. He is a CBLR – Rule 6 qualified professional and a licensed Indian Customs Broker.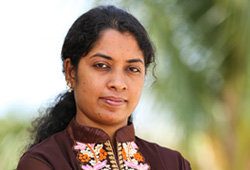 Ms. Sangeetha Nair
Director
---
Ms. Sangeetha is a professional women entrepreneur with over 12 years of experience in customer service, quality and training management. She guides the team at MG Logistics to deliver outstanding service standards to our customers.
Ms. Sangeetha is a Graduate in English with a Master Degree in Business Management. She holds a professional Diploma in handling dangerous goods by air.
Vision, Mission, Values
Vision
Deliver excellence in all the projects entrusted to us, to be always with our customers and business partners, exceed their expectations by offering state-of-the-art logistics solutions and grow together through trusted relationships. Contribute towards the betterment of society and the nation.
Mission
To be one of the leading players in logistics industry by providing innovative and cost effective logistics solutions across the globe.
Values
At MG Logistics, we believe our customers come first. We are committed to ensure customer delight by providing superior quality in service delivery with increased customer profitability. At MG Logistics, we believe the customer comes first; we are focused to ensure customer delight, superior quality of delivery and increased customer profitability. We have our work culture driven by values and we follow them while doing business.
Trust
Integrity
Transparency and openness
Quality at every level
Commitment to society and nation
Innovation, efforts for continuous improvement
Business with ethics
Agent Outlook
We value our business relationships with overseas partners and we believe that it is our responsibility to bring that level of comfort, to make the partnerships mutually enjoyable, beneficial and sustainable. We always assure our agents and business partners the following:
Most competitive and transparent costs for your DDU/DDP/EXWORK shipments, enabling partners to sell the services competitively.
Instant response to enquiries by our experienced team of professionals.
Immediate settlement of invoices.
24 x 7 support, without considering the time zone differences.
Superior service to your customers for all the shipments.
No hidden costs on arrival of shipments.
Reciprocal business support and highest possible incentives
Proper follow-up on all sales leads and convert your leads to potential business opportunity